HDO Box is a movie streaming app that has the greatest movie tracking feature. With the help of specific built-in filters, you can keep track of your favorite movies or web series and be the first to hear about any updates. The release date of your favorite film, as well as the cast and crew information, can all be found on the dashboard.
Enter your genre, language, and cast preferences to personalize the filters. New features are added to the HDO Box app on a regular basis.
Features:
 High-quality streaming links:
All of the movies on the HDO Box app are streamed in high definition. Movies are available in 1080p, 720p, and 480p formats. Some movies are available in 4K quality and are best seen on an Android TV.
Trakt.tv integration:
The software is linked to trakt.tv, which allows users to sync their watchlists across numerous devices.
There are no advertisements:
The app is fully ad-free and provides an excellent user experience. In addition, the user interface is clear and straightforward.
Movies are available for free viewing:
The HDO Box app is absolutely free to use, and there is no need to subscribe. All movies, TV shows, web series, and documentaries are available to stream for free.
Add the following movies to your favorites list:
You can add some movies to your favorites list in the app, which you can view later without having to search for them again. Your favorite list can also be shared with your friends.
Installation Instruction:
HDO Box Apk is not available as a standalone channel on Roku. So, it is not possible to download the HDO Box HD channel from the Roku Channel Store directly.
The best way to access HDO Box HD on Roku is by using the sideload app or casting your Android device's screen. Don't worry if this sounds new to you. If you need to stream the app on Roku, you need to mirror your Android devices on Roku. So, now let's discuss in detail how to screen mirror HDO Box on Roku.
Read More:
Install HDO BOX on Nvidia Shield
Step 1: Install HDO Box on your Android Device
Since HDO Box Apk is not available on the Google play store and it is an Apk file, you will have to enable third-party downloads on your Android phone and then download Cinema Apk as mentioned below.
Go to the Settings app on your Android phone and navigate to Security & Privacy.
Click on "Install app from External Sources" and enable it.
Open a browser on your device and visit the HDO Box Official Website.
Download and install the latest version of the HDO Box app
Not, its time to install a mirroring application for Android device. One such application is Cast to TV.
Step 2: Install Cast to the TV app
Visit the Google Play Store on your smartphone.
Search for Cast to TV app and select the app from the results.
Download and install the app on your device.
Step 3: Enable Screen Mirroring on Roku
This is the final part of the installation process. To mirror the Android device in your Roku TV, you need to enable screen mirroring option in Roku. Read below how to enable Screen Mirroring in Roku:
Power up your Roku device and visit the Roku homepage.
Navigate to the Roku Settings page from the menu.
Select System.
Select screen Mirroring >> Screen Mirroring Mode.
Enable screen mirroring by selecting Prompt or Always Allow.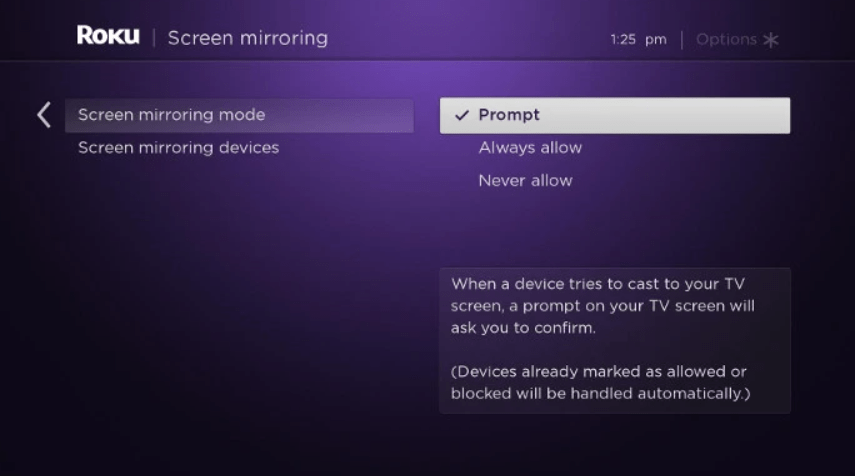 Step 4: Cast your Android Device Screen to Roku device
Once you have completed all the above mentioned steps, it's time to cast your Android device screen to Roku.
Open the Cast to the TV app on your Android device.
Search for your Roku device from the list of nearby devices.
Select your Roku device and pair it to your TV.
Confirm the connection process on your Roku device.
You will now see your Android device's screen on your TV.
That's it! Stream your favorite movies or shows from Cinema HD and enjoy watching them on your Roku TV.